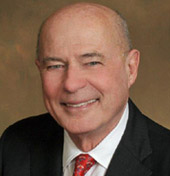 DATE AND PLACE OF BIRTH April 5, 1944, Del Rio, Texas
UNDERGRADUATE 1962 – 1966 University of Florida
EDUCATION Bachelor of Science in Business Administration – Real Estate
LEGAL 1966 – 1969 Florida State University
EDUCATION Juris Doctor Degree received March, 1969
Admitted to The Florida Bar in 1969
PROFESSIONAL 1969 – 1972
CAREER Special Agent, Federal Bureau of Investigation:
1969 – 1970 Baltimore, Maryland
1970 – 1972 New York City
1972 – 1999 Private law practice in real estate, commercial and personal injury litigation and criminal law.
1972 – Present
Owner and manager of commercial, single family residential, multi-family residential properties.
Certified Mediator, State and Federal Courts
CERTIFICATIONS Admitted to practice before the Florida Supreme Court – 1969
Admitted to practice in the United States District Court, Middle District
of Florida – 1972
Certified by the Florida Supreme Court as a Circuit Court Mediator in Fifth, Sixth, Ninth, Tenth, Twelfth and Thirteenth Circuits
PROFESSIONAL Past or Present
ASSOCIATIONS Association of Trial Lawyers of America
The Florida Bar Association
Hillsborough County Bar Association
Hillsborough County Association of Criminal Defense Lawyers
Phi Delta Phi Legal Fraternity
COMMUNITY AND Past or Present
BAR ACTIVITIES Big Brothers of Tampa
Board of Directors Epilepsy Foundation of W. Central Florida, Inc.
Board of Trustees, Tampa Ballet
Chairman, Hillsborough County Fee Arbitration Committee, Hillsborough County Bar Association
Member of the Statewide Fee Arbitration Committee, Florida Bar Association
Board of Directors and Commissioner, Bayshore Little League
President, Board of Trustees, St. John's Episcopal Parish Day School
(2000 to 2003)
Friends of Scouting supporter
Member of Building Committee, Gorrie Elementary School
Board of Directors, Florida Orchestra
Board of Visitors, Florida State University Florida College of Law
RELIGION St. John's Episcopal Church
HOBBIES Fishing, hunting, golf, running, reading and travel
WEB SITE cheesemanandphillips.com
He is also part of the Mediation For Florida team.