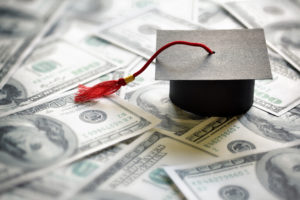 As of March 13, 2013, there was already $1.2 trillion in Federal Student Loan Debt with $77.4 BILLION in Defaulted Loans!
More than 45% of US households carry Student Loan Debt.
29% of Americans between ages 55-64 carry Student Loan Debt.
13% of Americans Age 65-75 still carry Student Loan Debt.
These debts are being saddled on parents that have co-signed student loans on behalf of their children.
Many of these debts are with Private Lenders with Interest Rates as high as 18.25 – 40%!
There are remedies, (not Bankruptcy) but these Debts should be handled by qualified Attorneys and/or Mediators that understand the process and all legal solutions!
Isn't it time you entered our proprietary Student Loans and Solutions AnytimeCLE.com course? Feel free to contact us at info@anytimeCLE.com or through our Contact Portal.